Hey everyone so my next review and giveaway (yes giveaway! I know it's been so long, I'm sorry!) is for
Amazing Grass
. Amazing Grass is a company that sells awesome superfoods that you can put into smoothies and just plain ol' juice as well as energy bars too that are healthy and nutritious. I had the chance to review basically a huge selection of nearly all of their products. Needless to say, I was pumped!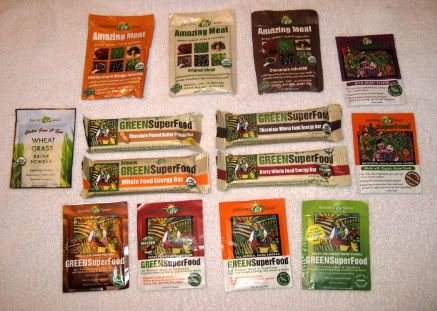 Amazing Grass's mission is to:
"To help people lead healthier more active lives by achieving their full potential through better nutrition. We strive to educate the world by spreading the word about the amazing benefits of cereal grasses. Amazing Grass will spare no resources or expense to produce nutritionally superior products with the highest quality organic cereal grasses available anywhere in the world."
Now I wouldn't say I'm a health nut but I do believe in living a healthy life. I believe in working out and eating healthy foods but I also have a major sweet tooth and snack on some not-so healthy snacks (I mean, have you seen some of the awesomely delicious snack foods I've reviewed previously on the blog?) I definitely don't condone eating dessert or anything crazy like that because I definitely do. But sometimes a girl has to eat/drink healthy too. WHich is why I thought Amazing Grass was really great.
Their Superfoods are basically powders that you can stir into juices, water, milk, or I put them in my after-workout smoothies. These Superfoods are organic and energy-boosting and come in delicious flavors like Chocolate, Berry, and Lemon-Lime. There are great benefits to them too such as, with the Berry Superfood it: Naturally detoxifies and boosts your immune system, has probiotics and enzymes to aid digestion and absorption, is Gluten Free and Vegan, and Just one serving gives you the antioxidant power of 7 serving of fruits and vegetables! They also have Amazing Meals which are similar to the Superfoods in that they're powder but have more protein and are 100% whole food nutrition.
While some of the flavors I didn't really care for, like the Original Blend of Amazing Meal, I did love the Berry Superfood and the Chocolate Superfood. I actually thought I was going to like the Chocolate one the best but in fact ,the Berry was my favorite. Mainly because while the chocolate tasted good, it wasn't chocolatey enough for me, I have a super sweet tooth and it has to be super sweet and it just wasn't completely there. Still good though! But the Berry was great, while some had a little bit of an after taste this one didn't really at all. I blended it with some blueberries, yogurt, bananas, and milk and all together it was a delicious smoothie! Definitely satisfying! Sweet and delicious!
As for their Energy Bars, I really liked them too. Let's just say, biting into a Peanut Butter flavored one that was actually green on the inside doesn't sound very appetizing but they really are. It's just that these bars combine many fruits and veggies and it's just the chlorophyll in the veggies that make it that color but it doesn't taste like that. Just like a few times I mixed spinach into my smoothies, they turned out green but they still tasted sweet and fruity! These energy bars are great because they contain 9 grams of fats (healthy omegas), 5 grams of protein, and 37 grams of carbohydrates. They're a little heavy on the calorie side coming in at 230 a bar but read the ingredients, they contain almost every veggie in the book, man, that's why. They were delicious, I loved the Chocolate Peanut Butter one and the Chocolate one.
Definitely check these out, especially if you like to lead a healthy life or at least want to start leading a healthier one. They're super nutritious and fantastic energy boosters! I loved them!
Buy It!
Head on over to
Amazing Grass' website
and browse their selection they have a wide variety of flavors, definitely something for anyone with or without a sweet tooth!
Win It!
A bottle of either Superfood or Amazing Meal in their favorite flavor!
1. Go to
Amazing Grass's website
and tell me what flavor you're most excited to try.
Please answer this question or else your comment will not count! You must do this first or future entries will not be counted.
(1 entry)
BONUS ENTRIES
2. Subscribe by Email and Confirm that Subscription (1 entry)
3. Follow StarIMPULSE on Blogger. (1 entry)
4. Follow me on Twitter. (1 entry)
5. Tweet about this giveaway and send me a direct link to that tweet, you can do this once a day. (1 entry per day)
6. Subscribe to my YouTube channel. (1 entry)
7. Add my StarIMPULSE button to your sidebar and send me think link to your blog so I can see it. (1 entry)
8. Add StarIMPULSE to your blogroll (using my URL), with a link back to me! (1 entry)
ONE winner will be chosen on December 3rd, 2010 at 5pm (EST) and then will be emailed.
Alternate winners will be chosen if winner does not respond after 48 hours. Thank you and good luck!
Disclaimer-
I was provided a product for free in exchange for my review.
You can read more about my blog policies in my disclaimer.
IF YOU DO NOT CORRECTLY ANSWER MY CONTEST QUESTION, YOUR COMMENT WILL BE IMMEDIATELY REJECTED.