Hey everyone! So my next review is for
eShakti
! eShakti is a fantastic women's clothing website. What's great about it is that it's a custom clothing company, so you while you can shop by regular sizes you can also shop by custom size by sending them your hip/waist/bust etc size. Which is really really cool. I was sent the
Military chic jersey tee and cami
.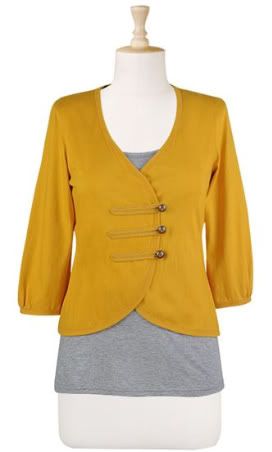 As the website says:
"Double-breasted tabbed buttons lend military-inspired styling to a cotton jersey top that's cut with a rounded hem for a feminine finish. A longer length cami in melange gray completes the layered look."
I really like these tops. I was kind of disappointed, mostly because of myself, by the tank top. It's very lose up top because I lack the, well, boobage for the tank top. But it's my fault, I chose to go by the numbers and went for a size 6 (which in reality I'm a size 4 so I don't know why I did that) when I really should have tried to go the custom size route. But the jacket fits pretty well. And I conversed with eShakti via email and they are extremely helpful and easy to work with. If you have trouble with a size they will glady ship you another or even ship you a custom size. They even said to me that they will gladly ship me a custom size even after I do this review, even a month from now. Like I said, they are extremely easy going, helpful, and were more than a pleasure to work with.
But let's get down to the clothing. They are so well made! The jacket is so soft! It's made of 100% cotton too which is great because sometimes a piece of clothing could feel super soft but because it's made from some weird fabric once you wash it the softness will fade. Not with this baby. You can also tell by the little details, the stitching of double breasted buttons, this jacket will last.
It may not be the cheapest, price wise, shirt sold at $44.95 but the top is definitely worth the price. It's great quality and both pieces, the tank top and the jacket you can mix and match with various other pieces. Plus military chic is definitely in right now.
But you guys definitely have to check out the website, it has beautiful dresses for day and night and fantastic tops and bottoms that has various styles from casual to dressy.
This is also a great website to use for the holidays. Everyone loves getting clothes! And you won't have to worry about being that person to give someone a lame, pink nightmare a la "A Christmas Story," type piece of clothing if you shop for someone on this website. The clothes are so stylish and there is definitely something for any girl on this site. Definitely check it out either for yourself or for a gift for someone else! :)
Buy It!
Head on over to
eShakti's website
and browse their wide selection. Use the special promo code
KeLXKQ
and get 15% off your order! The code is valid through the end of November.