Hey everyone! So my next review is for the
T-Shirt Outlet
. A great t-shirt website that has a various assortment of funny shirts, movie/tv related shirts, and more! It's a great website to either shop for yourself or to shop for a gift for someone special for the holidays.
As the website says:
"The T-shirt Outlet is your online source for hip, hilarious novelty tees and gifts. Whether you are looking for sharp, sarcastic t-shirt slogans, silly slapstick graphic tees, or offensive t-shirts so funny they're downright obscene, you're sure to find funny t-shirts to suit any sense of humor when you shop our diverse collection of novelty t-shirt designs. The T-shirt Outlet really does have something for everyone."
I received this funny shirt to review: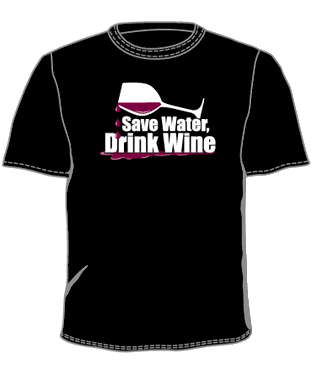 The shirt says "Save Water, Drink Wine" and actually this is a gift for someone special, my mom, haha. I know I've been getting a bunch of stuff for my mom lately (I need to get some stuff for my dad now, haha). But I was browsing this website and while I do love me some "Dumb and Dumber" and "30 Rock" and was THISCLOSE to picking out one of those for myself. But I have sooo many shirts my t-shirt drawer is kind of getting squished. Plus, I saw the various selection of wine shirts and thought I needed to get one for my mom. My mom loves her wine and I'm sure she will get a big kick out of the t-shirt. I plan on putting it in her stocking because she never has a really stuffed stocking. It'd be a nice surprise.
See! You can do that too if you browse this site! There's a wide selection here, you will definitely find a funny shirt to give to someone on here. Whether they're big "The Office" fans or big beer fans. They even have some pretty funny Holiday shirts too.
The shirt quality is pretty great too. They're made with American Apparel shirts which is a great, familiar brand that people trust. One thing I wish they had was more of a selection of colors for the shirts, I would have preferred to have gotten a white t-shirt rather than a black one but it was the only choice.
Definitely check out this website whether you want a shirt of your own or you're in need of a gift for someone special. Make them laugh with a funny t-shirt!
Buy It!
Head on over to
T-Shirt Outlet's website
and browse their awesome selection! You won't be disappointed and definitely will have a few good laughs!