Hey everyone! So my next review and giveaway is for
Nicole by OPI's new Holiday Magic line!
With the holidays coming up this means gifts, shopping, and parties! Well, for this review we're heavily leaning to the latter. Holiday parties are a big part of this time of year, whether it's a family function, a job holiday party, or a crazy alcoholic-eggnog induced fest with your friends, you need to look the part. That means you gotta wear some cute colors, something not so bright, a little dark, but eye popping...no I'm not talking about the dress I'm talking about your nails, silly! Dressing up for the holidays, if it's a snazzy party, you should dress up the whole 180 and that includes fancy-ing up those nails! So why not check out this super awesome Holiday Magic collection from Nicole by OPI. It definitely has colors that envoke the holiday spirit! I was lucky enough to try the entire line!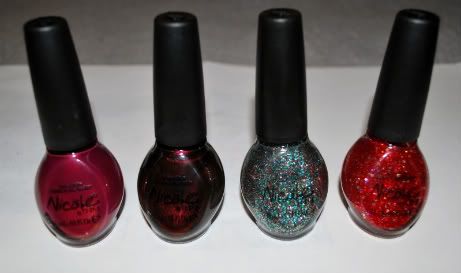 The colors are:
Bring on the Tinsel
: A silver that sparkles even more than tinsel.
Spark My Mistletoe
: A red so hot it might cause a real spark.
Stuck in the Chimney
: You'll never forget this red – it will be stuck in your mind.
Kiss Me at Midnight
: This dark red is perfect for night, the best time for a kiss.
As the press kit says:
"Capture the enchanting spirit of the holiday season with Holiday Magic from Nicole by OPI! For Holiday 2010, Nicole by OPI presents a limited-edition collection of four celebratory shades, ranging from sparkling silver to deep red. Designed to complement winter wardrobes, these festive hues add a magical touch to any occasion."
I really loved these colors, a great mix of solids and sparkles! Not gonna lie, the night I received these, I immediately tried on a color. I'm a big fan of dark colors, so I tried on the
Kiss Me at Midnight
and used the
Bring on the Tinsel
on one fingernail. I just put the sparkles on one fingernail mainly because I find sparkles to be super fancy and since I am just going to work all week the sparkles on all nails might be a bit much, but I still wanted to try the sparkles, so I set my own trend and just put it on one nail. Looks pretty cool, too bad my nails aren't that long though it'd look even cooler. But I'm a biter, haha.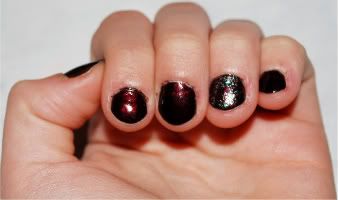 But I really loved the color, I wouldn't consider it a dark red, it's more of a dark copper. But it's very pretty. I used the
Bring on the Tinsel
for the sparkle and they seemed to compliment each other. It was easy to put on and stayed on for a while too. Definitely great nail lacquer, not like the cheap ones that just chip off by hitting them.
I really liked the reds too and I plan on using them both when it gets closer to Christmas. I'm not a huge fan of reds but these colors are just super festive you gotta use it. I'm going to put the sparkles on over the red much like I did with these, probably more sparkles though, haha.
Definitely check these out, they're perfect for the holiday season. Whether you buy them to wear for a party or to stick in something's stocking for a small but still pretty cool gift. Another great thing about these is that Nicole by OPI Nail Lacquers and Nail Treatments contain no DBP, Toluene, or Formaldehyde. Hooray!
Buy It!
Holiday Magic from Nicole by OPI will be available beginning November 2010 at ULTA, Meijer, Harmon, HEB and Sears. Or check out
Nicole by OPI's website
for more information!