Hey guys! I hope you all had a great Thanksgiving weekend! Now back to the grind and exercizing off all that food you ate. For me it was sweet potatoes, sweet potatoes, and pieeeeee. Hahaha. And, if you don't live in the United States and don't celebrate Thanksgiving...I hope you had a lovely weekend! :)
November means winter is upon us and the cold weather is already here. You need to protect your skin from the cold weather. What better way to do that than to moisturize, moisturize, moisturize!
Eucerin
is a great skin care company that has various lotions for any skin type. But being that the winter weather dries your skin out, what better skin lotion can you use that
Eucerin's Plus Smoothing Essentials and Plus Intensive Repair Hand Creme
for dry skin therapy.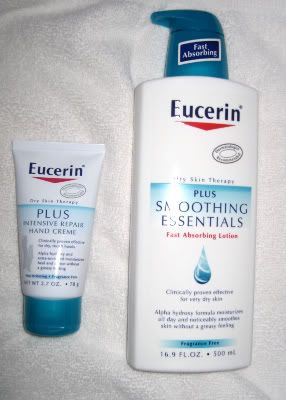 If you would like to see my previous review of this great product, check it out
here
.
Eucerin contacted me again to host this giveaway, but instead of re-doing the review, I'm just going to tell you all what I do to make my skin not-so dry during this cold weather.
Well, I try to moisturize, I cream it up everytime after I shower, specifically using Eucerin's lotion because it is the most helpful with my skin and makes it feel super softtttt. Also if I'm outside for a while, I glove it up. I'm a wimp anyways so I practically always wear gloves. But wearing gloves protect your hands, even if your gloves are super thin it's still helps a little bit, against the cold air and if it's windy the wind burn. If your hands still feel dried out, just moisturize when you get home, don't wait until you shower, just load up on the lotion when you're inside, especially on your hands because they really get hit the hardest in the winter (and my nose does too, so I lotion that up a lot as well).
Just don't forget about your skin during the winter! I know it's not the summer so you're not showing it off so much, but you don't want it to get super dried out anyway right?
Many readers may have some questions as it begins to get cooler, and here are some tips to recommend to readers so they can put their Skin FIRST this winter and keep their skin and body healthy all the way into spring 2011!
"I have enough going on during the winter – why should I add my skin to my to-do list?"
With the upcoming holidays, planning of winter activities and visiting family and friends, you don't want to add one more thing to your day. But dry skin can occur when your skin is exposed to temperature changes like dry, cold or windy weather - and don't be fooled into thinking it's just the outdoor weather that can harm you, indoor heat can cause skin to dry out as well. Dry skin affects up to 20 percent of the population and can put skin at risk for bacterial, viral and fungal infections, making moisturizing extra necessary. Moisturizers like Eucerin Plus Smoothing Essentials bind water to the skin for long lasting moisturization. The result: a softer and more elastic stratum corneum with strengthened protective properties.

"I use moisturizers and cleansers on my body when I shower, is that good enough?"
When you're cleaning and moisturizing, don't forget about your hands. Some people tend to forget how important they are to overall skin health and focus on their face and neck. Your hands get into everything, from scalding hot water in the kitchen sink to the freezing cold outdoor temperatures. You can protect your hands by choosing washes and moisturizers designed to replace lost lipids, maintain the physiological pH of your hands' stratum corneum and promote skin's natural renewal process. Also, when going outside in the cold weather, always wear gloves!
This is also a great gift for someone. Instead of giving that person the typical go-to Bath and Body works gift set, give them a lotion that works! Who cares if it doesn't smell like tropical bananas? It will make their skin happy not smelly! Definitely check Eucerin out!
Buy It!
Head on over to
Eucerin's Where to Buy page
and see what store is selling it near you! Near me it's sold at CVS, Rite Aid, and Kmart!
Win It!
ONE winner will receive a bottle of Eucerin Plus Soothing Essentials and Hand Creme!
1. Go to
Eucerin's website
and comment on this post telling me a fact you learned. Please answer this question or else your comment will not count! You must do this first or future entries will not be counted. (1 entry)
BONUS ENTRIES
2. Take the
Skin First Pledge
.
3. Follow starIMPULSE on blogger. (2 entries!)
4. Subscribe by Email and Confirm that Subscription (1 entry)
5. Follow me on Twitter. (1 entry)
6. Tweet about this giveaway and send me a direct link to that tweet, you can do this once a day. (1 entry per day)
7. Subscribe to my YouTube channel. (1 entry)
8. Add my StarIMPULSE button to your sidebar and send me think link to your blog so I can see it. (1 entry)
9. Add StarIMPULSE to your blogroll (using my URL), with a link back to me! (1 entry)
ONE winner will be chosen on December 13, 2010 at 11:00pm (EST) and then will be emailed.
Alternate winners will be chosen if winner does not respond after 48 hours. This contest is only open to all US Residents. Thank you and good luck!
Disclaimer-
I was provided a product in exchange for my review.
You can read more about my blog policies in my disclaimer.