Hey everyone! So my next review is for
SC Johnson's fantastic spring cleaning products
. I was sent an assortment of awesome Pledge, Glade, and Scrubbing Bubbles cleaning supplies and goodies from
BzzAgent
.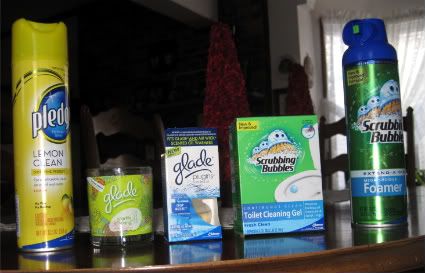 The products I received were:
Scrubbing Bubbles Toilet Cleaning Gel
Scrubbing Bubbles Mega Shower Foamer
Pledge Lemon Clean
Glade Sparkle of Spring Candle
Glade Crisp Waters Scented Plug In
Now, let me just say, I hate cleaning. It sucks, I do like cooking and baking and but cleaning is just...yuck. I don't care if moving around helps you burn calories or after cleaning your room will smell fresh and wonderful, I am just lazy! But there are some things you just have to do. So I while I was super pumped to receive these products I was not super pumped to do the actual cleaning work, haha.
I actually spent one whole Saturday just completely cleaning my house and using these products and let me tell you, they get the job done! Though, I've been a huge fan of the SC Johnson brand forever so it wasn't a huge surprise to me. It's one of those companies that you trust because their products never let you down and always live up to the name.
I actually use the Pledge Lemon Clean on my wooden coffee table in my living room and basically all of my wooden furniture all the time. It helps shine, restore, and refresh your wooden surfaces. It also helps protect against water spills, stains, and everyday wear. It's great, definitely the best wood cleaner out there.
The Glade products are fantastic too. Especially if you have pets, sometimes pets can stink. My cat actually is notoriously known for laying some crazy SBDs. So both the candle and the plug-in are fantastic ways to easily freshen up the smell of a room. Both smell fantastic. I actually never had a plug-in before so I was stoked to try this one and it worked wonderfully. The candle was great too and is now a staple in my bedroom. It has such a clean, spring scent that isn't too flowery or overwhelming, much like the crisp water plug-in which is now in my living room.
Lastly, the Scrubbing Bubbles toilet and shower cleaners. I actually never used Scrubbing Bubbles products before so I was pretty excited to try them out. The shower cleaner really left my shower super shiny! I didn't even think my shower was dirty until I cleaned it with the shower foamer and wow. What a difference! The toilet gel was great too. It's super easy, you just stick it on the toilet and it gradually dissolves. It makes the toilet smell nice too!
Overall, these products are awesome. What was even more awesome was that I received a giant coupon book too to get more of them $1.00 off. Awesome. Definitely check out these products along with any other SC Johnson cleaning supplies. They're great and definitely get the job done.
Buy It!
Head on over to
SC Johnson's website
and browse their products. Also check out your local supermarket, they definitely sell them there too!
Disclaimer-
I was provided a product in exchange for my review.
You can read more about my blog policies in my disclaimer.