Hey everyone! Meatless Mondays is back, sorry for the break it has been an insanely busy summer! Next up is the pretty simple BBQ Tofu Sandwich! It's really delicious and super easy to make.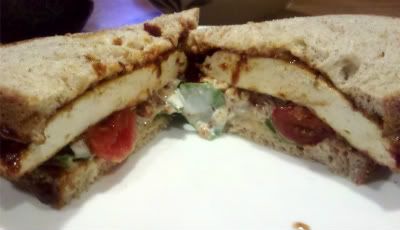 Ingredients:
1/4 cup thinly sliced onion
1 14-ounce package extra-firm or firm water-packed tofu, drained
1/8 teaspoon salt
1 tablespoon canola oil
1/2 cup prepared barbecue sauce
2 tablespoons low-fat mayonnaise
2 teaspoons red-wine vinegar
1/4 teaspoon garlic powder
Freshly ground pepper to taste
4 whole-wheat hamburger buns, toasted
1 1/2 cups coleslaw mix (see Note) or finely shredded cabbage
Directions:
1.Place onion in a small bowl, cover with cold water and set aside. Stand tofu on its long narrow side. Cut lengthwise into 4 rectangular slabs, each about 1/2 inch thick, and pat dry. Sprinkle with salt.
2. Heat oil in a large nonstick skillet over medium heat. Add the tofu slabs (depending on the size of your pan, the tofu may slope up the sides a little). Cook until browned on both sides, about 4 minutes per side. Reduce heat to low. Add barbecue sauce and carefully turn the tofu to coat with the sauce. Cover and cook for 3 minutes more.
3. Meanwhile, combine coleslaw (or cabbage), mayonnaise, vinegar, garlic powder and pepper in a medium bowl. Drain the onion.
4. To assemble sandwiches, place about 1/3 cup of the coleslaw (or cabbage) mixture on each bun and top with a tofu slab, a pickle slice and a few onion slices. Spread any sauce remaining in the pan on the top buns.
I didn't have the cabbage, so I just used lettuce. But it was still delicious all the same! For nutritional information check out
Eating Well's website
.