Hey everyone! My next review is for
Nasoya
. Nasoya is a great brand known for having deelicious tofu products.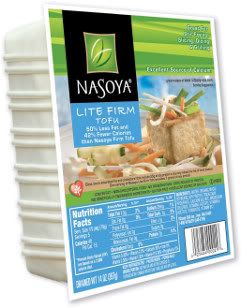 I was sent three coupons and tried their
Lite Firm tofu
. They also have nayonaise, super hummus, and more but I couldn't find them at my local grocery so I just stuck to their yummy tofu. I've been a big fan of Nasoya for a while actually, it's my go-to tofu brand why? Just because they're awesome and yummy (yes, tofu can be yummy you just need to know how to cook/prepare it ;]).
What I love about Nasoya is they have a variety of tofu, yes all tofu brands usually have silken to firm but Nasoya even has lite versions and I love their lite firm tofu. It low calorie and and low fat which is great because although being a pescatarian it is difficult finding protein the protein you do find, such as tofu, is usually high in fat so a little goes a long way, at least with this lite tofu a little more goes an even longer way, yay!
Another great thing about Nasoya products is their website, if you ever run out of ideas of what to create with their products they have a great recipe guide for every product from breakfast to dinner, so they have you covered.
Me? To be honest, just like I mentioned in the previous post, I'm usually lazy and stick to tofu stir fry. A classic, in my opinion.
But I do plan on checking out their awesome recipes and hopefully when I move later next week my new local grocery store will have more Nasoya products than just the tofu because that super hummus looks insane and I need to try it. It's hummus with double the protein and half the fat, sounds excellent to me!
Buy It!
Head on over to
Nasoya's website
and browse their yummy product selection or check out their wide variety of recipes. You definitely won't be disappointed! Click the
Where to Buy
tab to see where they sell Nasoya near you!