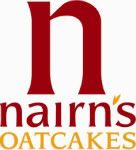 Hey everyone! My next review is for
Nairn's Oatcakes
. Oatcakes are like cookies and crackers had a healthier British baby. And they're pretty good!
The products I received are:
Organic Oatcakes
Stem Ginger Oat Biscuits
I believe I tried the stem ginger oat biscuits a while back, so I was really pumped to try them again. They actually sold them at this cheese shop and we would get that with this yummy apple strudel cream cheese. The ginger really compliments the cinnamon and apple wonderfully but it's also yummy to eat solo. This was actually my favorite out of the two. It has a stronger flavor, the ginger even makes it almost a little hot but in a good way.
The Organic Oatcakes are okay, a little plain. But I'm sure with a little brie or cheese they'd go great. Especially for snacking on before dinner or with a little wine and cheese party. But they're all organic and vegan friendly too.
Both are high in fiber. They are made with wholegrain oats to a wheat free recipe. They contain no hydrogenated fat, genetically modified ingredients, artificial colorings, flavorings or preservatives. They're also both naturally energizing so you can eat them to perk or pump up your day. They also come in packs of 5 so you can take them on the go for snacking which I think is pretty nifty, too.
Definitely check out Nairn's they have an assortment of delicious flavors even some gluten free ones too!
Buy It!
Head on over to
Nairn's Oatcakes' website
and browse their awesome selection!