Hey everyone! My next review and giveaway is for a really cool and innovative product called the
Tanda ZAP
. The Tanda ZAP is a handheld blue light LED acne treatment machine that has been scientifically proven to kill bacteria.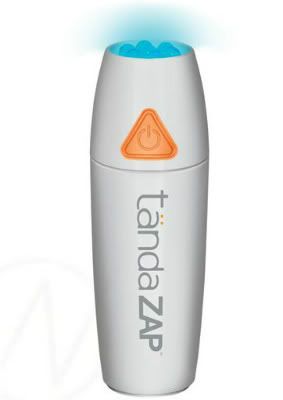 This is a really cool product and I was a bit skeptical about a light really curing acne but I tried it nonetheless. Man, I am pretty glad I did because I had a huge zit right on my cheek and used this like 2 days in a row and it quickly went away. I was amazed.
All you do is press a button and a blue light turns on and the little machine begins vibrating. You point it right onto you blemish and wait for the vibrating to stop, it usually is about two minutes, then you're done. Do this three times a day for a few days and you'll see your skin start to clear up.
I love the size of this little guy, you can carry it with you in your purse or when you're traveling so you don't forget to use it everyday and it really does work. I noticed it work on bigger zits more than the little guys. The little guys take a little longer to disappear.
This light doesn't do anything but get rid of the pimple. It doesn't dry out your skin, irritate it, and it doesn't hurt.
Some more background on this super cool gadget:
"Acne breakouts occur when hormonal changes cause our sebaceous glands to produce excess sebum (oil), P. acnes bacteria feed on the sebum and multiply, clogged pores trap the multiplying P. acnes bacteria and white blood cells move in to fight off the invading bacteria -the result, a pimple. Blue LED light has been clinically proven to kill acne-causing P. acnes bacteria, clearing existing blemishes and preventing future outbreaks.

The Zap uses a combination of powerful blue light with sonic vibration and gentle warming for clinically proven clearing results."
Definitely check out this item if you have problems with acne on your skin like I do, it really works and if it doesn't for you for some reason there is a risk free money back guarantee! Also to read more information about skin and Tanda check out this infographic
here
.
Buy It!
Head on over to
Tanda's website
and browse their selection! They have more products than just the zap, too!
Win It!
ONE winner will win a tanda ZAP for themselves!
1. Head on over to
tanda's website
and tell me what other product you'd be interested from them to try. Please answer this question or else your comment will not count! You must do this first or future entries will not be counted. (1 entry)
BONUS ENTRIES
2. Follow starIMPULSE on blogger. (2 entries!)
3. Subscribe by Email and Confirm that Subscription (1 entry)
4. Follow me on Twitter. (1 entry)
5. Tweet about this giveaway and send me a direct link to that tweet, you can do this once a day. (1 entry per day)
6.Subscribe to my YouTube channel. (1 entry)
7. Add my StarIMPULSE button to your sidebar and send me think link to your blog so I can see it. (1 entry)
8. Add StarIMPULSE to your blogroll (using my URL), with a link back to me! (1 entry)
ONE winner will be chosen on December 27th, 2011 at 5:00pm(EST) and then will be emailed. Giveaway is open to all US Residents. Thanks and good luck!
Disclaimer-
I was provided a product in exchange for my review.
You can read more about my blog policies in my disclaimer.