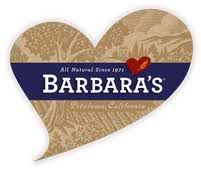 Hey everyone! So my next review is for
Barbara's Bakery
. Barbara's Bakery is an awesome company that sells delicious cereal and snacks. I was sent a coupon which I quickly took to my local Trader Joe's and bought a box of delicious cereal.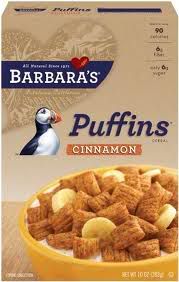 I chose the
Cinnamon Puffins
and it is so good!
A few weeks back I actually received a taste test of Barbara's Bakery which was really cool where I sampled two samples and compared them. One was made with whole wheat or multigrain and the other wasn't. Both I think were Puffins and they were really delicious. I took a questionaire after to give my opinion of both and received this coupon after. I thought it was a really unique way to get input from their consumers. Plus, they were really delicious too! It was my first time eating Barbara's Bakery.
Needless to say, I was pumped trying a whole box of their cereal. And man it did not disappoint! The cinnamon puffins are so delicious! They taste like cinnamon toast crunch if it was puffy and more delicious, if that makes sense. It's crunchy and soft at the same time. I think Puffins is the perfect name for them too because they are puffy!
As the website says these Cinnamon Puffins are:
"Cinnamon sprinkled crunchy corn pillows are a high-fiber treat and contain just 6g of sugar!"
I liked this flavor but looking at the huge selection on their website I kind of wish Trader Joe's had more. They only had the original, peanut butter, or cinnamon. But they have so much more! I guess I'll have to continue exploring my local grocery stores!
Overall, I really loved Barbara's Bakery Puffins cereal. It was sweet but not loaded with sugar and filling enough to hold you over til lunchtime! Definitely check them out, you won't be disappointed!
Buy It!
Heado n over ot
Barbara's Bakery's website
and browse their awesome selection. You can purchase them online or check the
store locator
to find a store near you!