Hey everyone! So my next review is for
Wholly Guacamole
. Wholly Guacamole is an awesome company. For Christmas I received a lovely holiday card from them complete with a free coupon! Of course I jumped on this and grabbed some guacamole from my local Target. You may remember I did a few reviews for them in the past and you can check them out
here
.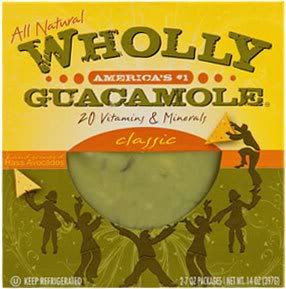 I love guacamole, it's such an underrated snack. People just think it's great for parties but you can use it for so many things. You can snack on it with some chips yes, but you can also dip tomatoes or red peppers in it too. You can also add it to wraps or sandwiches as the spread. I love guacamole, it is awesome.
Wholly doesn't just have guacamole though they also have cheese you can use as a dip too, salsa, various types of guacamole like 100 calorie snack packs and spicy, too.
I chose their classic guacamole just because I love the classic one because it tastes great with everything. The guacamole is all natural with 20 vitamins and minerals in every portion. It's also only 60 calories per serving which is 2 tablespoons.
Another great thing about Wholly products is that they are naturally free of chemicals and pathogens while retaining all of the great, fresh taste!
Overall, I love Wholly they have great and super delicious products you definitely won't be disappointed. They're great for snacking and parties and hey isn't the Super Bowl coming up? Better get on that for your Super Bowl Party!
Buy It!
Head on over to
Wholly's website
and click on the
Where to Find Us
tab to see where they're selling it near you. Looks like Walmart and Target sells it near me!