Hey everyone! My next review and giveaway is for
The ShaveWell Company
. They have an awesome fogless mirror, perfect for shaving in the shower or trying to get all that makeup off, which is what I do, haha.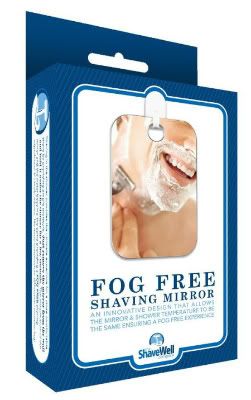 The fogless mirror is really easy to set up but for me it didn't stay fogless. I had to continue to wet it under the water. It's pretty easy though and usually does stay fogfree for a while. But this is how the mirror usually works:
Most houses are kept in a temperature range of 70-75 degrees. The average shower water temperature is 107.5 degrees. Fog on a mirror is simply condensation. The air in the bathroom is heated by the shower and becomes saturated with moisture. When this saturated moist hot air comes in contact with the shower shave mirror (which is still at normal room temperature roughly 30 degrees less), the moisture comes out of the air and condensates on the shower shave mirror surface. When you hold your Shave Well mirror under the shower stream for a few seconds, the acrylic mirror will warm up allowing for the temperature of the moist air and the mirror itself to equalize. Once you have held the mirror in the shower spray to equalize the temperature of your shower and the mirror, there can't/won't be any fog/condensation.
The mirror stays on a hook which has an adhesive that you stick to the shower. It stays up very well.
I use the mirror to make sure all the makeup is off my face at night but it's great for guys to shave their faces. I like that it's small too because I plan on moving in a few months so it will be really easy to pack and put up in another shower. Sometimes showers aren't too big either, so it's the perfect size for all showers and you still get to see your face.
Overall, I really like this mirror it's such a great idea and comes in handy. The fog-free capability is just awesome, too!
Buy It!
Head on over to
The ShaveWell Company's website
and buy one for yourself!
Win It!
ONE winner will receive a fogfree mirror for yourself!
1. Follow The ShaveWell Company on
facebook
and/or
twitter
or both and comment below telling me you did so! Please answer this question or else your comment will not count! You must do this first or future entries will not be counted. (1 entry)
BONUS ENTRIES
2. Follow starIMPULSE on blogger. (2 entries!)
3. Subscribe by Email and Confirm that Subscription (1 entry)
4. Follow me on Twitter. (1 entry)
5. Tweet about this giveaway and send me a direct link to that tweet, you can do this once a day. (1 entry per day)
6.Subscribe to my YouTube channel. (1 entry)
7. Add my StarIMPULSE button to your sidebar and send me think link to your blog so I can see it. (1 entry)
8. Add StarIMPULSE to your blogroll (using my URL), with a link back to me! (1 entry)
ONE winner will be chosen on February 23rd, 2012 at 5:00pm (EST) and then will be emailed.
Alternate winners will be chosen if winner does not respond after 48 hours. This contest is only open to US Residents only. Thank you and good luck!