Hey everyone! My next review is for
Shari's Berries
. Shari's Berries is a great company that sell a variety of delicious gifts but they specialize in chocolate covered strawberries which are perfect for Valentine's Day.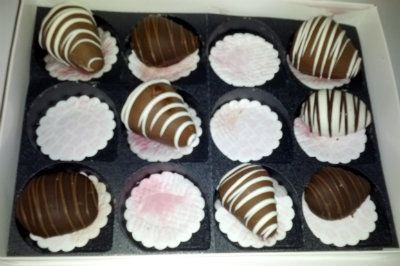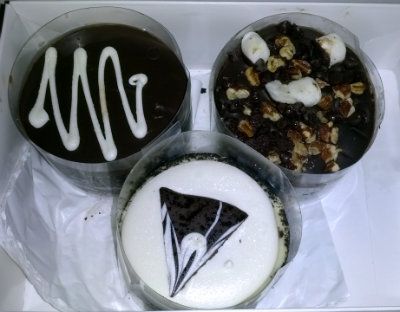 I actually received the
Cheesecake Trio and Full Dozen Strawberries
. The cheesecake trio has three different cheesecakes: rocky road, classic New York, and white chocolate.
I have to say too, these came on my birthday so that was pretty convenient and a nice little birthday present for me.
They are amazing, as you can probably tell, I mean I was too excited to take a picture of the chocolate covered strawberries until after my roommate and I dove into having a few.
It's funny because my friend came over the other day and saw the box and knew it was Shari's Berries. She gets the berries for Christmas and loves them.
They are so delicious. I love that they come in different chocolates, they're dipped in dark, milk, and white chocolate and then dark, milk, or white chocolate swizzles. Yum! They are just perfect. There's no stems on them so you don't have to worry about taking those off, you just eat and enjoy!
The cheesecakes too are incredible. The rocky road one is my favorite because I'm a chocolate person. It had tiny marshmallows on it, it was rich but not overwhelming, just super, delicious. They are small, but a perfect size to split with someone or just eat slowly. The downfall to this is that they are 400 per service and a serving is 1/4th of the cake. Wowzers. But sometimes it's okay to indulge, especially if the cheesecakes taste that delicious.
Overall, I really loved the berries and cheesecakes, they were so delicious. Also guys, keep in mind Valentine's Day is coming up and they would make perfect gifts. I am definitely a chocolates/food over flavors kind of girl, too. They also have a variety of other delicious, sweet gifts, like chocolate dipped cookies, cherries, and more. Definitely check them out, you won't be disappointed!
Buy It!
Head on over to
Shari's Berries website
and browse their awesome selection!