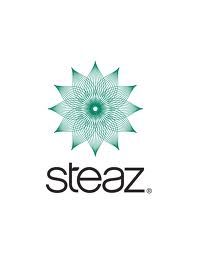 Hey everyone! My next review is for
Steaz
! Steaz is a great company that sells a variety of awesomely flavored teas but with a twist! They are all organic, naturally sweetened, and taste amazing.
I chose the
Blueberry, Pomegranate, Acai iced team
.
This one is 100% natural green tea' 120 mg of antioxidants, and tastes so good! But I am a huge fan of blueberries and pomegranates and Acai so just combining them is ace for me. The can states:
"The combination of blueberry, pomegranate, and acai adds layers of flavor and antioxidants."
Like I said, I really love this tea. It is a great combo, also it is sweet but not too sweet where it makes you more thirsty or leaves that gross aftertaste in your mouth. It was yummy and refreshing. And only 40 calories per serving! With two servings per can, that's only 80 calories which isn't too bad for a flavored iced tea!
Calories an issue for you? Well they have these iced team that have zero calories, too! That is what is cool about Steaz, they have a variety of tea-based products. From sparkling green tea to energy to e-shots (energy shots), they have a product for everyone! I'm not big on energy drinks but this iced teaz tasted so, so good I would definitely try more in their different flavors.
Overall, I was very impressed with Steaz, their drinks are so great! Definitely check them out you won't be disappointed!
Buy It!
head on over to
Steaz's website
where you can purchase them online or find a retailer near you! I found mine at Whole Foods.