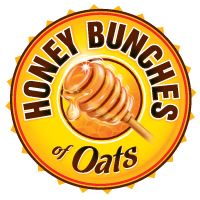 Hey everyone! My next review and giveaway is for
Honey Bunches of Oats
. You may remember that I reviewed a box of theirs in the past and you can check the review out
here
. They have a new flavor out called Tropical Blends and man, it is so good!
I love Honey Bunches of Oats, it's one of my favorite cereals, definitely top three. When I heard they this Tropical Blends flavor being released I had to try it, especially when I found out there was coconut in it I NEEDED TO TRY IT. I love coconut anything. Honey bunches of Oats Tropical Blends is a crispy flavored flakes with real coconut shavings and coconut flavored granola clusters.
it is so, so good. You can taste the coconut and mango and the compliment each other so well. The tropical blend is such a refreshing flavor too, sweet but not super sweet and a nice taste to wake up to in the morning. Definitely my new favorite Honey Bunches of Oats flavor.
Some added bonuses of this new flavor is that it is 10g Whole Grain, only 120 calories per serving, 6g of sugar, includes 9 essential vitamins including 60% your daily value of iron, 4 wholesome grains, and has no trans fat, cholesterol, and only 0.5g of saturated fat.
If you are a fan of the original Honey Bunches or their millions of delicious flavors and love trying new ones, or love tropical flavors, you will love this flavor. It tastes so good. Add some extra fruits like bananas or strawberries for more kicks, that what I usually do, but it tastes just as good solo, too!
Buy It!
Head on over to
Honey Bunches of Oats' website
and browse their awesome selection. Or just go to your local grocery store, they most likely have it, too!
Win It!
TWO winners will receive ONE free Honey Bunches of Oats coupon!
a Rafflecopter giveaway