Hi everyone! My next review and giveaway is for
Yes To
. Yes To is a great skin care company that caters to different types of skin depending on fruit or veggie used in the ingredients of the skin care product.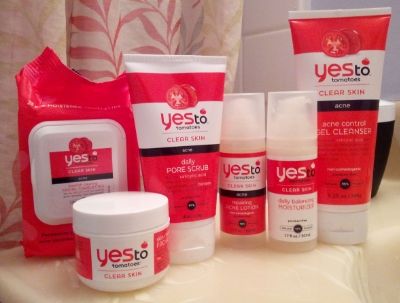 I was sent their Yes to Tomatoes line because I have a problem with pimples and this is the go to fruit to get rid of that. The products they sent me included:
Yes to Tomatoes Blemish Clearing Facial Towelettes
Yes to Tomatoes Daily Balancing Moisturizer
Yes to Tomatoes Acne Control Gel Cleanser
Yes to Tomatoes Daily Pore Scrub
Yes to Tomatoes Roller Ball Spot Stick
Yes to Tomatoes Repairing Acne Lotion
Yes to Tomatoes Clearing Facial Mask


I was super excited to receive this giant collect, I definitely wasn't expecting practically the entire line to review, it was a lovely surprise.
I took about two weeks to review the products, every morning I would use the gel cleanser and balancing moisturizer, every evening I would use the pore scrub and balancing moisturizer again or switch to the repairing acne lotion. When I had makeup on I'd use the towelettes at night. When I had a big zit I'd use the spot stick. I used the facial mask twice because I believe it recommends using it once a week.
I was pretty impressed with how even though I used an array of products nothing dried out my skin. I LOVE the daily balancing moisturizer and repairing acne lotion, I think they may be my favorites just because lotions are weird with me, especially facial lotions. Many are too oily and take forever to rub in or just don't even moisturize, these were amazing. All you did was put a little dab, literally smaller than a dime on your finger and rub it into your face. My face was super soft and felt refreshed afterwards.
I loved the spot stick too but I had to keep remembering to use it that's why I think it didn't work the best with me because it said to use it three times a day I would maybe use it once because I would forget. I also loved the wipes, much like the moisturizer, wipes can sometimes dry your skin out so I sometimes stay away from them but these were great. They last a really long time too because I actually purchased them before and had them for months and they didn't dry out.
The scrub and cleanser was great too. I think it helped prevent pimples more than get rid of the ones I had if that makes sense, but you have to ride it out. I got some tiny pimples when I first started using the products and I think that's because my skin is just a pain and hates trying new things, but those slowly went away. But they worked pretty well and didn't smell weird like some acne cleansers do. I also loved the facial mask because it made my skin super soft afterwards and was easy to take off, some masks can be a pain.
I was really impressed especially with the little amount you had to use to see a difference. You didn't have to glob it on, you know? A little goes a long way.
Overall, I really enjoyed these products and definitely plan on picking up a few of them again once I'm finished with these because they really do work.
Buy It!
Head on over to
Yes to's website
and browse their selection along with their other lines!