Hey everyone! My next review is for
Planet Shoes
. Planet Shoes is a great shoe company that sells a variety of lines and styles of shoes. From slippers to sandals, they have it!
I received their
Acorn C2G Lite Ankle Sandal in Dark Chocolate
to review.
First of ll I really appreciated the customer service, I'm actually a size 7.5 but since they didn't have half sizes so she recommended and 8 and that fit perfectly. So thanks for being so helpful!
Some stats on the shoes:
- Hand burnished nubuck leather uppers
- Leather lined footbed and uppers
- Medial Gore and adjustable straps for fit and comfort
-Unique construction for ultimate lightweight flexibility
-Each pair weighs under 10 ounces
Contoured EVA footbed with molded heel cup and arch support
Skid resistant and cork frame outsole
I actually gave these babies the ULTIMATE test and that was to wear them an entire day at Six Flags Magic Mountain. Arguably not the wisest decision one could make wearing them for the first time, but I tried them on at home and they were so comfortable so they had to be comfortable the entire day right?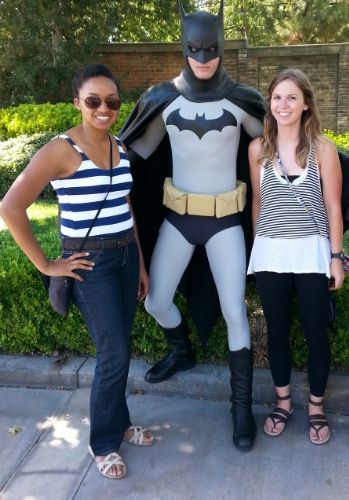 Me wearing the sandals as my friend Ayana and I met Batman. I was also standing next to Wonder Woman but I cut her out because she's not as important as my main man.
The sandals did actually make the cut! The soles are just insanely comfortable and the straps are made from a nice, soft leather so they didn't rub at all. By hour 4 of an 8 hour day at Six Flags the bottom of my feet started to rub a little by the arch. Not an insane amount of pain and they didn't blister, just some discomfort. This could be because it was hot out and my feet were probably sweating on the bottom or you know just all that walking.
My main worry though was the thong part in between the big toe and 2nd toe, I usually have a difficult time wearing most flip flops because I blister there easily and that didn't bother me at all. So while there were some minor issues with these shoes I still really, really like them and was very impressed with them. They are perfect everyday shoes and lets be honest, the only shoes you should wear at theme parks are sneakers so that was my bad but honestly it wasn't so bad.
Overall, I was really impressed with these sandals, I received quite a few compliments from my friends wearing them and they are so comfortable. The soles I literally would just rock back and forth on because they are so cushiony and comfortable. Definitely the most comfortable sandals I have probably ever worn. Definitely check them out you won't be disappointed!
Buy It!
Head on over to
Planet Shoes' website
and browse their selection. Check out their
Acorn
line if you want a pair of sandals like mine.