Hey everyone! My next review is for
Skoy Cloth
. Skoy Cloth is a great company that sells a variety of dishwashing cloth products that are both eco friendly and really do get the job done.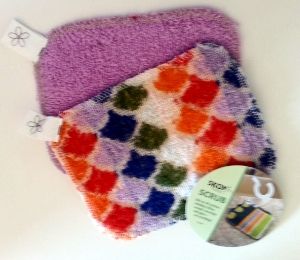 I received their
Skoy Scrub
. Some stats about the scrub is that it is:
- Reusable and long lasting
- Replaces traditional scouring pads
- Easy to clean
- Safe on most surfaces
- Fun colors and designs
The Skoy Scrub is great and tough on hard to get rid of stains on kitchenware. It's think but super tough and gets rid of caked on messes on pots and pans, too. It also helps clean stovetops and counters, scrub root vegetables, remove windshield bug bits, and remove scale and hardwater spots.
I really enjoyed the Skoy Scrub because after a night of cooking the worst part is cleaning everything up. Sometimes sauces get so caked on that you need so much elbow grease to get it off, fortunately you don't have to use as much elbow grease with the skoy scrub. It scrapes everything off so well but still doesn't leave any scrapes or marks on the pot but just cleans off the residue leaving a nice clean pot.
They're also really easy to clean themselves. They're fairly thin but still quite strong but the thin-ness makes it easy to rinse them and clean them.
Overall, I was really impressed with the scrub it worked so well and was awesome. Definitely check them out! They also have a Skoy cloth which is a dish cloth and a rail where you can hang your dishcloth. The cloth is 100% biodegradable, too!
Buy It!
Head on over to
Skoy's website
and browse the three products, you can also see where they sell them near you!