Let's just get into this review. You guys know I love Purex, I pretty much can't get enough of their detergent, it's the best around because it is reasonably priced and still works wonderfully. Though, like any great brand, Purex likes to switch things up sometimes by adding more wonderful products and just like any dedicated consumer I can't wait to try their latest items! Their latest item is fabric softener and I love it!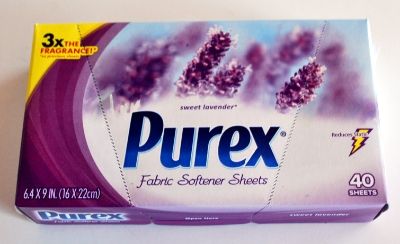 I received the sweet lavender scent and I love them!
Purex Fabric Softener Sheets don't just reduce static cling and leave your family's laundry soft and smelling fresh: They can also keep your whole house smelling fresh! Seriously, I opened the box that it was shipped in and left the fabric softener in my living room for like two days without opening it it still freshened up my room. The lavender was such a powerful and wonderful smell. Seriously without even opening the fabric softener box it still smelled lovely. I'm looking at the little pamphlet right now too that it came with and even THAT still smells like lavender. I almost didn't want to open them and use them but man I am glad I did!
The fabric softeners made great room fresheners but even better for your clothes and laundry! My clothes just smelled so great. They also reduce static cling, like I mentioned above, and repel pet hair and lint. I love these softeners. They work so well and the smell sticks to the laundry, too!
Overall, I want to say I was impressed with Purex but I wasn't because they never disappoint. They always know how to surprise you and make great laundry and household products that do wonders. I'm actually going to stick a few of these fabric softeners by my garbage bag, one in my car maybe, and one in the living room. LAVENDER MY HOUSE UP, YAY!
Definitely check them out, you won't be disappointed!
Buy It!
Head on over to Purex's website and browse their softeners and other great products!
Win It!
THREE winners will receive one free product coupon for Purex Fabric Softeners!
a Rafflecopter giveaway