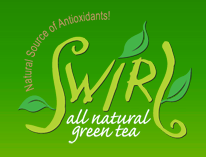 I'm more of a tea than a coffee person but sometimes, especially days like today where it is super hot you don't really want another hot drink. Or sometimes you're in a hurry and don't have time to make tea. Fortunately, there's an awesome, easy to make tea called
Swirl Tea
. Swirl Tea is an all natural green tea that you just pop it in a water bottle, let it steep for a bit and it's good to go!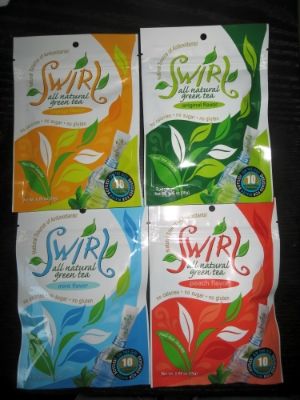 Swirl Tea sent me the following flavors:
Original
Peach
Peppermint
Mango


Honestly, I was a bit skeptical about these because there's so many "just add water" flavored things that taste so weird. This is exactly what it is, tea! And so delicious! It's a natural source of antioxidants, contains no calories, no sugar, and no gluten.
You can do a cold brew which is just adding the bag to a regular 16.9 oz bottle of water. Then you shake and let it steep for 10 minutes or 30 minutes for a full brew. I had mine steep for about a half an hour, maybe more and it still looked pretty light, like this: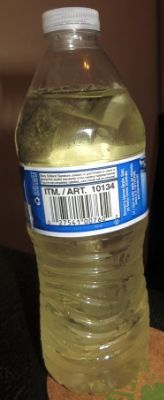 But it tasted so delicious. Honestly it tasted just like regular tea because it is regular tea. It contains all natural ingredients, only hand-picked all natural tea leaves are used. This particular one was the peach tea which was my favorite, though they all are awesome, and it was great. Super refreshing, a great change from just water but not loaded in calories or sugar because it doesn't contain any! It also contains less caffeine than regular hot tea or coffee per serving.
It's definitely perfect for on the go when you're in the mood for tea. Just add the bag into your water bottle, get ready, then drink it on your way to work or where ever. It's really, really delicious. Still prefer warm tea? You can always let it steep in hot water for five minutes and it still tastes just as good!
Overall, I was super impressed with Swirl Tea and their great variety from Mango to Peach are all so delicious! Definitely check them out you won't be disappointed!
Buy It!
Head on over to
Swirl Tea's website
and browse their awesome selection. They retail for $3.49/pack, and there are 10 tea bags in a pack. Be on the lookout for a giveaway for them soon, too!
Win It!
3 winners will receive a full set of Swirl Tea (one unit per flavor)! Head on over to
Swirl Tea's Facebook
between August 30th to midnight on September 2nd, comment on their link to this review to win!