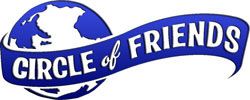 Hey everyone! We all enjoy feeling clean right? I mean, unless you're Pigpen, but yeah. I know I do. Right after the gym or a long day at work I look forward to a nice shower. Though, I remember as a kid I was the exact opposite and not a fan except maybe some bubble baths. That's where
Circle of Friends
comes in. Circle of Friends is this great, really fun line of bath products specifically for kids but hey they're even great for adults, too!
I received the following:
Rosa's Raspberry Shampoo
Pia's Pineapple Detangler
Ciao Bella Peach Bubble Bath
Marisol's Melon Shine Serum


What I found to be really cool about these products is that they feature a character from a different country on each bottle. On the back there's a section where the character introduces themselves, talks about their country, and you have to guess what country they're from. They're from everywhere too and I mean EVERYWHERE. Rosa on the shampoo bottle was from Spain (I guessed that right)! Pia from the Pineapple Detangler is from Indonesia, Sophia on the Ciao Bella Bubble bath is from Italy, and Marisol on the shine serum is from Bolivia. You learn some neat facts too from each person, like Bolivia is one of two countries in South America that doesn't have an ocean coastline.
As for the products themselves, I really was impressed with them. I'm not a fan of raspberry so at first I didn't like the scent of the shampoo but then it started to grow on me. It made me a bit nostalgic and reminded me of those L'Oreal children's shampoos that I used to use. I guess I did have a raspberry scented one as a kid, too. It made my hair so clean and soft.
The detangler was my favorite though. I love pineapple and it smelled amazing. I do use a detangler for my hair. Mainly because don't really condition my hair because it gets greasy quite easily but my hair is really fine and gets knots very easily too. The detangler I usually use is pricy and comes in a smaller bottle but this one is more bang for your buck for sure. It has so much more product and still does the same awesome detangler job. You spray it onto your hair when it's wet, I do it right after showering, and then comb/brush your hair through. There's no greasy or crunchiness either.
The shine serum is really nice, too. All you need is a few drops and it get's rid of fly-aways and static while making your hair nice and shiny. I have a babyhair/flyaway problem sometime so this worked so well. The bubble bath was also really nice. I never thought of a peach scented bubble bath but it is so great. Extremely relaxing. All you do is squirt a few drops under the running water and bam, bubbles formed.
Overall, I was extremely impressed with Circle of Friends. They have so many scents to choose from for their shampoo, lotions, and more and the products work really, really well. Definitely check them out, you won't be disappointed!
Buy It!
Head on over to
Circle of Friend's website
and browse their awesome selection!