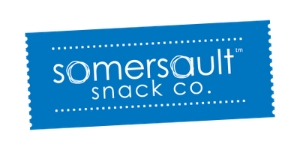 Well guys, I just started a new job. Basically it's a desk job, lots of talking on the phone and computer stuff and it can get pretty dull so you need a snack to re-energize sometimes. That's why I was pretty excited when
Somersault Snacks
contacted me to try out their latest flavor along with some old favorites. You may recall way back when I did a review for them and you can check it out
here
.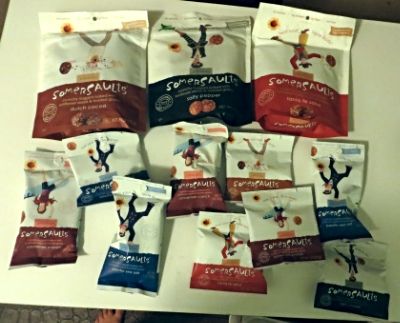 The Flavors I received are:
Santa Fe Salsa
S.S. Sea Salt
Chez Cocoa
Salty Pepper
And their newest, Cinnamon Crunch
Cinnamon Crunch is their latest flavor and it is so delicious. With a variety of mostly savory flavors, I'm really glad they added a sweet one for the non-chocolate fans. No to say I don't love chocolate, but I do have a bigger sweet than savory tooth on most days when I crave a snack. Needless to say, I'm a huge fan of this flavor.
The snacks are pretty beneficial to your health, too. The crunchy little nuggets are baked with sunflower seeds and toasted grains. They're all natural, contain 6g of protein, 3g of fiber, and are nut free. Somersault Snacks actually have as much protein as almonds but with half the fat and are a good source of Vitamin E.
I really enjoy these snacks just because of the variety, like I mentioned above. No matter what you're favorite snack flavor or taste: sweet, spicy, salty, or just plain chocolate you will definitely enjoy these snacks. Just bear in mind the number one ingredient is sunflower seeds so if you aren't into seeds you may not like them because they are seedy (in the good way, not sketchy way). I think it's great how different each flavor is yet they all go well with the sunflower seeds.
They are so good and I love how they have smaller travel packs, too. With snacks like these you can easily just keep eating them and eating them and eating them, so at least there is a limit with the little bags because that is one of my downfalls. With snacking I'll just zone out and keep eating and eating. The travel packs are perfect for on the go like bringing to work, too!
Overall, I really enjoyed these snacks, they're so delicious and a great snack to give you a mid-day boost during the slow time at work. Definitely check them out you won't be disappointed!
Buy It!
Head on over to
Somersault Snacks' Website
and buy them there! Or check out their
Store Locator
to see if a store near you is selling them!