It's that delicious time of the month!
Devo Olive Oil
sent me two new flavors of vinegar and oil to create my own recipe. As most of you know, each month they surprise you with such unique and delicious flavors as the flavors of the month. With that, my challenge as a Devo Diva is to brainstorm and create recipes for them.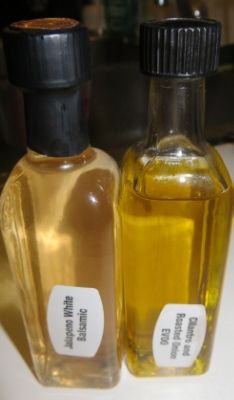 Devo's September Flavors are:
Cilantro Roasted Onion EVOO
Jalapeño Balsamic Vinegar

Spicy September, right? When receiving these flavors I knew I was going to go south of the border for my recipe and I did. I made an easy and delicious black bean taco. It was supposed to be a burrito but I can't wrap a burrito properly so taco it is!
Ingredients:
- 1 can of black beans
- handful of spinach
- Tortilla
- 1 cup of rice
- 1-2 tablespoons of guacamole
- 1-2 tablespoons of salsa
- 1 teaspoon of garlic powder
- 1 teaspoon of chili powder
- 1 teaspoon cumin
- 2 tablespoons Cilantro Roasted EVOO
- 2-3 tablespoons of Jalapenos Balsamic
- Hot Sauce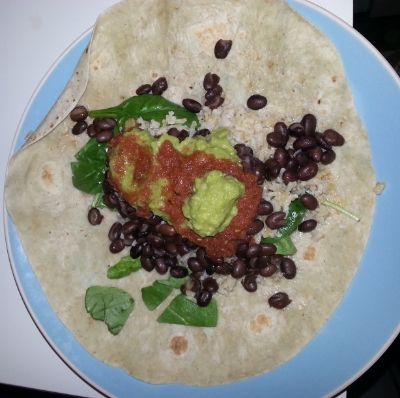 Directions:
Now you can make this two different ways: use little tortillas and make a bunch at once or make one or two big tortillas and save the leftovers for later. Being that I didn't have any little tortillas, I did the latter option.
Start by cooking the rice, i made 1 cup. Follow the instructions on the box or whatever rice you choose to use. I chose the 5 minute brown rice because I'm lazy.
While the rice is cooking, start your beans. Strain all the water out of the beans and give them a rinse. Pour them in a small pot and and heat them over the stove. Add the oil and then all the spices (garlic powder, cumin, chili powder, and onion powder) to the beans and mix. You don't have to add all of the spices if you're not into spiciness or don't have all of them. I recommend at least the garlic powder and the oil to add some flavor.
When the rice is ready, mix in the vinegar.
When both the rice and beans are cooked, the fun and easy part begins! Add the spinach, rice, and beans to your tortilla. Then add the guacamole, salsa, and hot sauce.
Now, the most important part: Eat!
What's great about tacos and burritos is that you can cater them to the way you like it. Add some cheese or tomatos if you want!
I added the vinegar to the rice because I remembered adding the coconut vinegar to
this recipe
and it worked really well, and the same went for this recipe. The jalapeno gave the rice a nice kick. I also added the oil to the beans to do the same and also to prevent some of the beans from sticking.
I really like these flavors for the balsamic and oil too because you can come up with so many recipe ideas. I am thinking about making a spicy dipping sauce, too, I'll keep you guys posted!
Overall, once again Devo did't disappoint again. Their unique flavors really add a great kick to meals. Definitely check them out, especially if you love cooking and creating new recipes. Definitely check them out!
Buy It!
Head on over to
Devo Olive Oil's website
and browse their huge selection.