One of the hottest trends recently are monthly subscription boses, from food to makeup, there's definitely a box for everyone. One very cool one ins particular is
Loot Crate
. Loot Crate caters to all the geeks and gamers of the world. Every month they follow a certain theme and mail out items involving it. In July it was "Varsity," August was "Cake!" and this one for september is "Animate."
I think I lucked out with being able to review this particular crate. As a child, I grew up on the classic Nicktoons like Ren & Stimpy and Rugrats, the golden era of Cartoon Network with Dexter's Lab and Cow & Chicken, and I was just a die hard Teenage Mutant Ninja Turtle and Scooby Doo fan. Seriously though, Leonardo came to my birhday party once. Needless to say, I was more than excited once I discovered what was in this crate.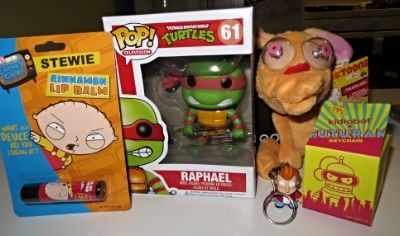 The crate included:
Raphael from the Teenage Mutant Ninja Turtles Pop! Vinyl
Futurama Mystery Keychain (Fry!)
Talking Ren Plushie from Ren & Stimpy
Teenage Mutant Ninja Troopers Magnet
Stewie from Family Guy Cinnamon Lip Balm
PokeAwesome Sticker
"It's over 9000!" Wall Vinyl

Ahhh! So cool!
The vinyl of Raphael is aweesome, even though he is my least favorite turtle (he's just so moody, Michelangelo FTW). He still kicks butt though. These guys are made from Funko and pretty well detailed. He's rocking his knives and scowl, as per usual, along with even his initial "R" on his belt. This definitely makes a really great addition to a room or even just a desk. I have a problem though now because I just want to start collecting the rest!
Another favorite is the Ren plushie because he talks too! He also has some googly eyes and you can pose his arms and legs. I had a tough time posing his legs but his arms worked really well for me. As a kid, Ren & Stimpy was my favorite Nicktoon, which I guess says a lot about me haha. My parents always called Stimpy "Stinky" and I'd get sooo mad, I also had a big stuffed Stimpy that made fart noises. So this was a major win in the box. I kind of want to stick it in my car window and just it off to the world.
The mystery keychain from Futurama was really cool too. I'm not a huge fan of the show, but I have watched a few episodes and I LOVE mystery boxes. I was hoping it was a character I knew though and it was, the main guy Fry! It's a great little keychain too, only about an inch tall.
I'm a lip balm addict so I loved the Stewie lip balm, the cinnamon flavor kind of made your lips tingle which is really cool, too.
Another great one was the Teenage Mutant Ninja Trooper magnet. This is SO cool! So simple but great and the best of both worlds/a major win for Star Wars and TMNT fans like me. It's a great way to jazz up your fridge, add some personality, and maybe give you a reason to throw away those free magnets you got from the library. I think this would be an awesome print, too.
The fat Pikachu sticker was really funny too. I like to put my stickers on my door in NJ, it's COVERED so I'll bring this home with me. I liked the wall decal that said "It's Over 9000!" too but I'm not entirely sure what it's referencing. I think it's pretty funny though to put as a word bubble by one of my posters.
Overall, I was insanely impressed with this LootCrate, it's so awesome and unique. I loved the variety of items, practical like lip balm and silly awesome like talking Ren, that's what boxes are all about. Definitely check it out! You won't be disappointed.
Buy It!
Head on over to
Loot Crate's website
. They're less than $20 per month! Also use the code
STAR
to get 10% off your order!