Want to know how to get in good with your co-workers when starting a new job? Two words: Free snacks. So when I was sent a bunch of delicious popcorn from
Angie's Popcorn
. My roommate suggested I bring some to work and that's exactly what I did!
I was sent their two flavors from their Boom Chika Pop line. The lightly sweet and sea salt.
The Boom Chika Pop line is 100% awesome, 0% guilt. They contain natural ingredients and 100% whole grain. They contain no high fructose, corn syrup, trans fat, or GMO's. They are also certified gluten free, vegan, and kosher. Literally the ingredients for the sea salt one is: sunflower oil, popcorn, and sea salt. The lightly sweet has: sunflower oil, popcorn, sea salt, and fair trade organic evaporated cane crystals. The sea salt is only 35 calories per cup while the lightly sweet is a little more calories coming in at a whopping 37 calories per cup.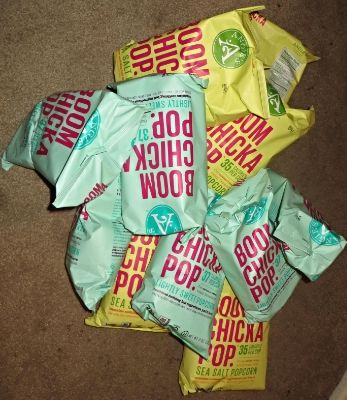 As a blogger, I love my job and take pride on giving you all my honest opinions of items from from food to fashion, but what is more fun is that I get to hear other people's opinions on the products, too. I love sharing snacks and stuff with my roommate, friends, and coworkers to see what their thoughts are on the items, too. Most of the time we are on the same page and we love them. With Angie's, for the most part, we loved the popcorn.
My roommate and I weren't huge fans of the sea salt one. I know it is supposed to be light but you really couldn't taste much salt, it tasted more like plain popcorn which is fine if you are expecting unsalted popcorn. We were not. So while wasn't into the sea salt, I had the exact opposite feelings for the lightly sweet popcorn. I loved it. My co-workers also loved it. One of my co-workers even said "tell them it's really good." Which is true. I love kettle corn and this was just as good, but lighter and healthier for you. Also, not so sticky on your fingers. It's a great snack to have when you're craving something sweet but don't want to ruin your "healthier eating" diet with a chocolate cake or something. Let's just say the first bag did not last too long at the office so I am glad I brought two. I may even bring more next week.
Overall, while the sea salt one wasn't my particular favorite, I loved the lightly sweetened so much. Definitely check out Angie's they not only have this Boom Chika Pop line but also more flavored ones like White Cheddar, Dark Chocolatier Sea Salt, and Sweet and Spicy. So if you love popcorn, you'll love Angie's!
Buy It!
Head on over to
Angie's Popcorn
and browse their awesome selection!