Hey everyone! I hope you're all enjoying fall, it is definitely a calm before the winter storm. One of my favorite parts of the fall is the food. I love pumpkins and apples and all the recipes that go along with them. It's great to know that
Devo Olive Oil
is definitely on board to help create those delicious fall recipes.
This month's Devo flavors are:
Cinnamon Pear Balsamic
Roasted French Walnut Olive Oil


I decided to make a baked apple walnut oatmeal, a recipe I actually discovered on one of my favorite blogs,
PB Fingers
, and switched up the recipe a little in some places. It is a great, delicious item for breakfast or just a snack.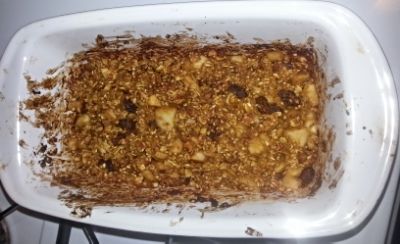 Ingredients:
- 3/4 cup old fashioned oats
- 1/4 cup steel cut oats
- 1 teaspoon baking soda
- 1 egg white
- 1/2 cup applesauce (I used Musselman's cinnamon applesauce)
- 1/4 cup apple butter (I actually used pumpkin butter)
- 3 tablespoons raisins
- 1/4 cup chopped walnuts
- 1 medium apple, finely diced
- Roasted French Walnut Devo Olive Oil to oil pan
- Devo Cinnamon Pear Balsamic for topping
The ingredients also included 1 teaspoon salt but I forgot to add that in and, honestly, it still tasted pretty delicious.
Directions:
1. Preheat oven to 400 degrees and oil loaf pan with Roasted French Walnut Olive Oil.
2. Stir together rolled oats, steel cut oats, baking soda, and salt (if you want to add it) in a large bowl.
3. In a smaller bowl, combine egg white, applesauce, and apple/pumpkin butter.
4. Add applesauce mixture to the oat mixture and stir.
5. Add walnuts, apples, and raisins to oatmeal mix.
6. Pour or scoop mixture into the loaf pan.
7. Bake uncovered for twelve minutes.
8. Remove from oven, stir, and bake for another ten minutes.
9. EAT!
I added the cinnamon pear balsamic as a sort of topping, too, when it was finished. I don't recommend adding a crazy amount but just enough to give it a little kick works pretty well. It is also great eat some with milk, solo, or make a yogurt parfait. The possibilities are nearly endless!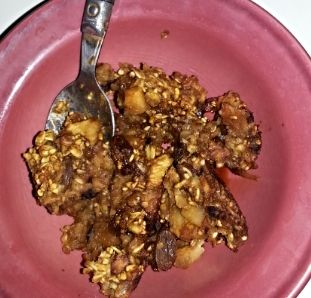 I thought it was a really unique and delicious breakfast to eat. Plus it's pretty east to make. The hardest part was chopping the nuts, which really wasn't anything. I also liked that since you made like a loaf's worth you were set for a few, at least three, days for breakfast. That is if you don't snack on it in between.
Devo's Roasted French Walnut made a difference too than using regular old cooking sprays to keep the oatmeal from sticking. It tasted good too. I think it kind of kept the flavor of the baked oatmeal strong, even brought out the nuttiness flavor more.
Overall, I definitely enjoyed this month's Devo flavors. You can also make some delicious poached pears with the cinnamon pear balsamic, too, if you want something very simple and delicious. I was debating on doing a review like that but wanted to switch it up a little more. Check out Devo's website for more recipes, too. Definitely check them out, you won't be disappointed!
Buy It!
Head on over to
Devo Olive Oil's website
and browse their huge selection.