Hey everyone! You may recall last month I reviewed for
Loot Crate
and if not you can check out that review
here
. Loot Crate is a monthly subscription box where they send monthly themed boxes out filled with products for geeks and gamers. Well it's that awesome time of the month again! This month's theme is perfect for the  month of October: Survive! It's creepy for Halloween and time appropriate for us Walking Dead fans because Season 4 premiered this month, yay!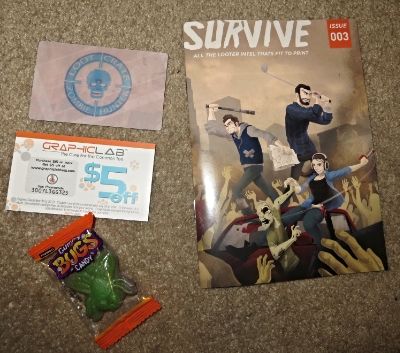 This box contained:
- Creepy Candy Bug by Candy Warehouse
- 8-Bit Zombie Buttons
- Love Your Guts Card by Open Me
- Zombie Hunter ID Card
- Outbreak Status Temporary Tattoos
- Zombie Survival Handbook by Max Brooks


And equally the coolest, cutest, and creepiest thing ever that is so  great:
Ewoking Dead T-shirt
I loved this box because it has such an awesome variety of items and  they are always so entertaining and awesome. I love how even the  smallest items are still cool and creative. For instance, the  temporary tattoos are awesome! I may be an adult but I still love  temporary tattoos. They also make great additions to your zombie or  zombie hunter/survivor costume for Halloween!
The gummi bug was a little confusing, I'm not entirely sure how it fit  in with the theme. It may be because you will literally eat anything  for survival. In the pamphlet though it showed brains and body part  gummi candy, so that would've been cool but honestly the bug was just  as tasty! Haha, never thought I'd say that! The buttons were cute,  too. 8 Bit is a big thing now with prints and shirts of your favorite  television characters and cartoons in their 8 bit versions. So these  buttons fit right in. There are three buttons: one is a green zombie  hand, one is a crossbow, and one is a medical bottle.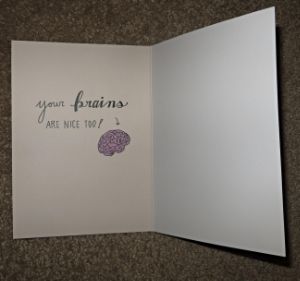 The Zombie Hunter ID card is a really cute addition, too. Carry it in your wallet and show it off to people especially if you dress as a zombie hunter for Halloween. Might as well fill it out, too, you may need it one day. The Love Your Guts card was great, too. Really clever and useful item. The inside, as you can see above, says "And your brains, too!" I think it's a really funny but sweet card to give your loved one as a surprise gift or save it for Valentine's Day or their birthday, that's what I plan on doing! The card is from
OpenMe.com
and you can join the site for free so you can send unlimited eCards for free. To snail mail a printed card it only costs $4 for members.
The Zombie Survival Guide by Max Brooks was awesome to receive, too. I actually read World War Z, which my feelings were a bit mixed for, but this one looks more entertaining and fun. It seems pretty serious too with drawings of people walking down stairs with axes and like scuba gear for underwater battles. Honestly it looks like a legit zombie survival book that I had to look on the first page that it said humor. Either way, I look forward to diving into this book, it looks like a really fun read.
Lastly, the best, the creme de la creme: the Ewoking Dead shirt. I think this is like one of the funniest, most clever shirts I own now. It's awesome. I nearly shrieked when I saw it because it was on top of everything. To combine two epic fandoms and make such a funny shirt, it's great. I wore it proudly to Halloween Horror Nights at Universal Studios yesterday and got so many compliments from my friends and my co-workers at work (because I wore it to work beforehand). It's the perfect shirt to wear around Halloween or just because you love Star Wars and the Walking Dead. The shirt is from
Graphic Lab Tees
so check it out!
The box also included a pamphlet that described each item more but also contained their top 5 zombie movie list and an interview with Max Brooks which I thought was pretty cool. Usually monthly boxes do have description pamphlets but I felt the interview and zombie movie list were really awesome bonuses.
Overall, I really loved this Loot Crate. Everything was so awesome! Opening this box was like a Halloween Christmas present. My love for Loot Crate is just continuing to grow box after box. Definitely check them out you won't be disappointed!
Buy It!
Head on over to
Loot Crate's website
. They're less than $20 per month! Also use the code
STAR
to get 10% off your order!