Christmas shopping is already beginning, with Veteran's Day sales and Black Friday just around the corner. There are some gift stumpers - the people you aren't exactly sure what to get them - but Fraas is here to assist you. Whether you need something for your coworker, cousin, or crazy accessory-obsessed friend, Fraas makes lovely scarves that can be the perfect gifts for them!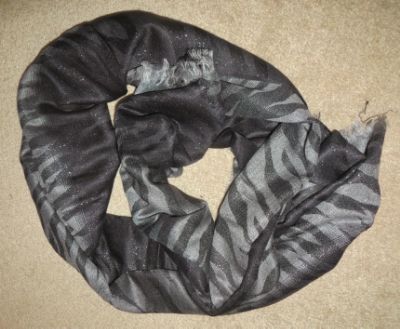 I was sent their Metallic Zebra style scarf in black and I am obsessed with it.
I am a Jersey girl so I have a soft spot for animal prints. This is the type of animal print I love because it isn't gaudy and can go with practically any type of outfit. It comes in three colors: black, gold, and silver. I am really glad that they sent me the black, it matches all of my jackets and outfits. Plus I generally levitate to black-colored things.
Its pretty use of metallic yarns make the animal print stand out but not too flashy, so it works well with dressing up, special occasions, or just for fun. It is also 12 x 80 inches so it is great to use as a wrap or really warm and cozy scarf.
Overall, I really liked this scarf. It is great for the colder weather coming up and nice enough to wear for holiday festivities. Scarves are a great go-to gift to give people when you can't think of anything and this one is so lovely nobody will be mad that you gave them this one! Check out Fraas, you won't be disappointed!
Buy It!
Head on over to
Fraas' website
and browse their selection or
Amazon.com
.
Disclaimer-
I was provided a product in exchange for my review.
You can read more about my blog policies in my disclaimer.