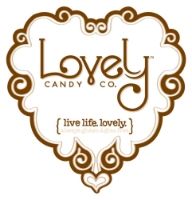 I have a sweet tooth problem. Seriously I can't really go a day without having a sweet. But a few of my friends can't have sweets because of gluten. My one friend actually has had gluten all her life and just a few months ago her stomach was acting up and it was because of gluten. She developed an allergy to gluten which sucks. Fortunately, if you're lucky you can find delicious gluten free candy and one excellent brand that has delicious gluten free candy is
Lovely Candy Company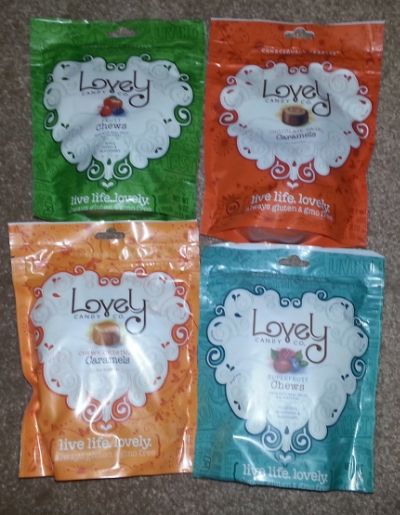 The candy I received are:
Chewy Original Caramels
Chocolate Swirl Caramels
Fruit Chews
Superfruit Chews

These are so, so good! Even for people that aren't gluten free. The story behind how they were created is pretty sweet. Jackie asked her husband to go on a quest for licorice but it had to be gluten and gmo free. Eventually it evolved from just more than licorice to also other candy, too.
The fruit chews taste like Starburst but you actually know what they're made of. They're shaped just like starburst in little square but you can actually see the seeds of the fruit in the chews. There's three different flavors for each. The fruit chews are apple, cherry, and blackberry while the superfruit chews are blueberry, cranberry, and raspberry. All of the ingredients you can actually pronounce, too. There's one flavor of the Superfruit tastes exactly like the pink Starburst and it is pretty amazing.
The chocolate swirl caramels and the original caramels are equally delicious. Though I have to say, I love the chocolate ones but they really aren't chewy like caramels. They're great chocolate chews but not so much chocolate caramel chews, if that makes sense. The caramel chews are exactly what you expect: amazing. Though they aren't so chewy where they get stuck on your teeth like some caramels I've had done. But they are just chewy enough for you to enjoy them.
These are all amazing. Not only are they gluten free, they are also soy, corn, wheat, and basically anything artificial free! Natural, delicious, amazing, sweet candies! They are the perfect candies to satisfy your sweet tooth. But watch out because if you keep the bag next to you while watching television you may eat more than you planned on.
Overall, I definitely recommend these, they are amazing, try them out you won't be disappointed!
Buy It!
Head on over to
Lovely Candy Company's website
and see where they sell them near you. Also be sure to
"Like" them on Facebook!