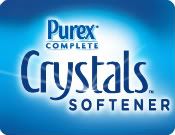 Hey guys, so as you may or may not know, I just got back from vacation. I went to Hawaii and it was an amazing time. Though being gone for ten days leaves you with a lot of laundry. Fortunately,
Purex
is here to save the day! They release their newest Crystals type: Fresh Mountain Breeze!
I tried their Crystals before and was a pretty big fan of them. You can check out previous reviews
here
. This one is equally great and smells so, so good!
Purex Complete Crystals give your clothes a long lasting freshness so they smell great for weeks not just days. It also does not reduce the absorbency of towels. It also is made with a natural formula so it is safe for your family and the environment.
Super easy to use, you scoop a cap's worth into the washing machine before you put your clothes in. Then you add your detergent, too. It gives you some added freshness and just is great.
I received these a few days ago and they came just in time so I could do my vacation laundry. My tons of towels and shorts now smell like the vacation I just left, a bit bittersweet, but still pretty awesome.
Purex once again does not disappoint, they're products make your laundry look and feel great for a reasonable price. Money is tight guys, why spend a lot of money on those crazy expensive detergents when Purex does the same work but you don't break your bank. Definitely check them out, you won't be disappointed!
Buy It!
Head on over to
Purex's website
and browse their awesome selection!
Win It!
THREE winners will receive a free product coupon each for Purex Crystals!
a Rafflecopter giveaway