Hey everyone, as you know I'm a girl and like most girls I don't mind spending a night in catching up on some television shows while polishing my nails. It's the only time I can polish my nails just so I can let them dry and just not mess them up because if I'm preoccupied doing something else other than sitting quietly in my seat without my hands moving because I am invested in a movie or show I will end up hitting my fingers and just messing it all up. So I was pretty excited when
Influenster
sent me a few complimentary bottles of
Sally Hansen's new Complete Salon Manicure line
to test out.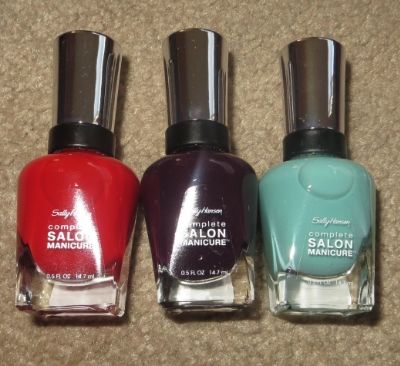 The colors I received are:
Red My Lips
Pat on the Black
Jaded
I am pretty much in love with these colors. Okay, I lied, I'm not a huge red fan but the other two I love. The Pat on the Black is really unique because it looks dark brown/purple and not black at all. I had to try it first. Came out pretty good, a great winter shade:
I really liked the consistency of these polishes, you only need two coats, they're not thin but nice and give a great color coverage on your nails so you use less but your nails still look awesome.
This line of polishes is super special too because it is a "have it all" type of polish in that you don't need a base, coat or top coat, it has it! But it also works well as a strengthener, growth treatment, it's chip resistant, has a gel shine finish, and great color. It has a streak free application and is super fast to do. You don't have to spend time adding on a clear top and bottom coat because it's already made in the polish. Pretty awesome!
I also really liked the brush, it's a bigger, thicker, plusher brush so it makes application super easy and thus prevents the streakiness like most other polishes have.
Fun fact, in an independent study of 375 who who wore Sally Hansen Complete Salon Manicure and either Revlon Classic or Essie, most women chose Sally Hansen after completing their manicure. Pretty cool and I bet once you try one of these polishes you can see why they chose them. They are great.
Overall, I was very impressed with Sally Hansen Total Salon Manicure, they are awesome and look so well on your nails. I definitely want to check out more colors in the store next time I'm out. Definitely check them out you won't be disappointed!
Buy It!
Head on over to
Sally Hansen's website
and browse their great selection!