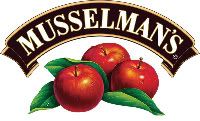 Fall is definitely the best season for food, in my opinion. I am one of those typical girls that are CRAZY obsessed with pumpkin. But there's other great flavors, too like apples and pumpkins. And when you want delicious apple products, you go to Musselman's! One of their excellent products, perfectly delicious during this time of year, is apple butter!
Apple Butter is an excellent alternative to put on your toast instead of jams, jellies, and other butters. Add it to your greek yogurt or cottage cheese in the morning. Or how about make some insanely delicious recipes with it, too? Yup you can even do that!
In addition to the jar of apple butter and a festive fall bowl, I received some some delicious festive fall recipes.
The recipes included five easy treats, one of them included Apple Butter Custard Pie.
The ingredients included:
- 1/2 cup sugar
- 2 eggs
- 1 1/2 tbsp cornstarch
- 1 tsp cinnamon
- 1 cup Musselman's apple butter
- 1 cup milk
- 1 19-inch deep dish unbacked pie shell
Directions:
- Preheat oven to 350 degrees. Combine sugar, eggs, cornstarch, and cinnamon.
- Add apple butter and mix well.
- Add milk gradually to the mixture and blend together.
- Pour into an unbaked pie shell. Bake 450 degrees for 10 minutes. Cover crust edges with foil. Reduce heat to 350 degrees and bake for 45 minutes longer. Center will slightly jiggle.
- Cool and eat it up!
It sounds amazing! I've been meaning to look for the pie shell but keep forgetting. It sounds like if apple pie and pumpkin pie had a baby. I'm really excited to try it.
How do I typically eat my apple butter? Well, I'm pretty lazy. Scoop it into my cottage cheese or greek yogurt, add some berries and hemp hearts and I have a banging breakfast! It's my favorite meal of the day and while it is simple, it is still pretty delicious.
Once again though, Musselman's does not disappoint! Check them out, you won't be disappointed!
Buy It!
Head on over to
Musselman's website
and browse their awesome selection!
Win It!
ONE winner will win a Musselman's prize pack like the one I received above!
a Rafflecopter giveaway