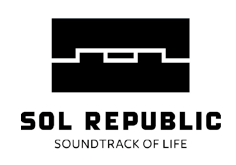 To start off the 2014 Holiday Gift Guide I'm very excited to share with you an excellent item that makes a great gift that practically everyone uses: headphones!
I recently got a job where I'm basically wearing headphones for eight hours a day. So I was very excited when I heard that SOL Republic released a new line of in-ear headphones. You may remember I reviewed their previous headphones and earbuds, you can check them out
here
.
Their latest are the RELAYS which are perfect for the on the go active life. Whether you're using them to go for a run or during work, these guys have you covered. With the in-ear headphones they send four different size cushions to stick in your ear and you base it on your comfort. I like the 2nd largest ones for office work and workouts. But they give you a variety so you find the perfect fit because they are designed to not fall out no matter what you put them through.
With the holidays right around the corner, it sometimes can be difficult finding a gift and these make perfect ones because they're high quality and great for everyone of all ages!
Some great benefits: they are sweat and water resistant, have a one year warranty, and lightweight. They also have volume controls on them and are compatible with apple and other devices.
I really enjoyed these. Just a few months ago I had a slew of headphones and then, all of a sudden, they all just disappeared, so these guys came at the perfect time. They are really comfortable, they don't bug you after you wear them for a while (trust me, I wear them at least six-eight hours a day). They don't fall out, either.
It comes with some other bonuses, too. First off the little bag carrying case, as you see above. It's perfect because usually I toss my headphones in my purse and they get lost of fall to the deepest depths of my purse and take forever to find. This guy makes them super easy and me a little more organized. The headphones themselves also have a little clip so it makes it easy for them to not get too tangled. Clip it onto your shirt to keep the wire straight. Or, if you only use one headphone because you're at work, clip the other one there so it doesn't fall to the floor or get messed up. Overall, these are awesome.
Once again SOL republic doesn't disappoint. These make perfect gifts for your friend that's a music fiend or for your daughter's stocking stuffer, either one would be sure to love these guys. Plus, they're probably going to last them a long, long time.
Buy It!
Head on over to
SOL Republic's website
and check them out, they are also at a bunch of retailers including RadioShack!
Win It!
ONE winner will win a pair for themselves!
a Rafflecopter giveaway