Hope you're all having a great Easter! I'm sure one thing we can all agree on is one of the best things about Easter is chocolate. Chocolate bunnies, chocolate eggs, chocolate anything. So what better day then to tell you about another delicious chocolate brand
Alter Eco
.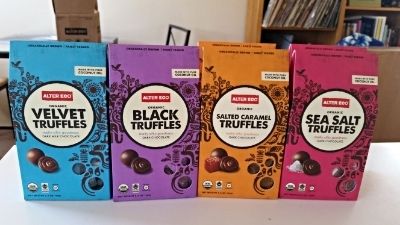 The chocolates I received are:
Velvet Truffles
Black Truffles
Salted Caramel Truffles
Sea Salt Truffles
These truffles are amazing. They're all made with pure coconut oil. They're also fair trade and organic. More or most importantly though is that they are delicious!
The velvet truffles are dark milk chocolate truffles. The black truffles, salted caramel, and sea salt are all dark chocolate.
All of these are so delicious. I am a big fan of dark chocolate so I loved most of these, the velvet truffles were okay but I gave them to someone who is a big milk chocolate fan. They almost melt in your mouth the truffles.
The brand name holds for the chocolates that are fair trade but also the wrappers are highly compostable, too. They're also non-gmo, too. They are chocolate though so they aren't really low calorie. Good luck limiting yourself to just eating one, I cannot.
It's hard picking a favorite but I think the salted caramel truffles are definitely up there. They're the perfect amount of chocolate and caramel taste that hits your sweet tooth perfectly.
Alter Eco has a variety of other great food too, from chocolate bars to quinoa to rice. Their mission is global transformation through ethical relationships with small-scale farmers, and an integral sustainability orientation at every point on the supply chain.
Overall, I really enjoyed these chocolates they're great and have a great cause. Definitely check them out you won't be disappointed!
Buy It! Head on over to Alter Eco's website and browse their selection!