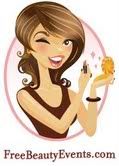 Hey everyone! It's your monthly reminder to check out an awesome website called
FreeBeautyEvents.com
. Free Beauty Events is an awesome website that has free makeovers, free samples and a chance to win beauty products in our monthly contest. By entering your zip code to find out what makeover, gift with purchase, spa open houses and sampling events are happening near your home.
For the month ofJune 2013, we will be giving away 10 prizes. Each prize will consist of Yes to Cucumber Facial Towelettes, Yes to Tomatoes Daily Pore Scrub, Yes to Carrots Daily Facial Moisturizer with SPF 15, and Yes to Blueberries Eye Firming Treatment. The Contest runs from 6/1/2013 to 6/30/2013, winners will be chosen on 7/2/2013 and notified by 7/15/2013.
Also, in June you can take advantage of the CVS P&G Event. Makeup artists will be giving FREE makeovers with the latest CoverGirl products and giving away samples and coupons. Also in June, the CVS L'Oreal Haircare Event features free samples and coupons from L'Oreal's new Advanced Haircare line. This is a great opportunity to see which products work best for you! Anyone who would like Free Beauty Event's site visitors to know about their beauty event can make a posting for free on our site
http://www.freebeautyevents.com/submit
.
Definitely, check out
Free Beauty Events
because we all love being pampered with makeup and beauty products, but what's even better is getting them for free!
Be sure to
"like" Free Beauty Events
on Facebook and
follow them on Twitter
.